BACK TO TOP
Burn Permits
This webpage contains information, links and FAQ's about obtaining and using burn permits to burn slash piles in the Black Hills Forest Fire Protection District. A temporary burn permit is needed to burn slash piles or other woody biomass from road clearing projects, building projects, or agricultural crops (i.e. spoiled hay bales) within the Black Hills Forest Fire Protection District
Burn Permits for open burning in the Black Hills Forest Fire Protection District are issued from October 1st thru March 31st each winter. The permits are only valid to use for burning slash piles when there is there is continious snow cover around the pile, the depth of the snow is at least 2 inches, and winds are less than 15 mph at the burn site.


What is the Black Hills Forest Fire Protection District?
The Black Hills Forest Fire Protection District was formed by state law in 1941. It was created in part to protect the timber on areas subject to unusual fire dangers. Early in recorded Black Hills history, the first foresters and firefighters came to realize that the ponderosa pine/grassland ecosystem of the Black Hills could burn any time of the year when no significant snow cover was present. And unlike higher elevations forests in the Rocky Mountain West, which hold continuous snow cover in the winter, an open burning season in the lower elevation Black Hills would result in many escaped fires on a yearly basis.
What area of South Dakota does the Black Hills Forest Fire Protection District cover?
The area covered is identified in South Dakota Codified Law SDCL 34-35-15. Generally, this covers the portion of the Black Hills that is south and west of Interstate 90 from the Wyoming state line to exit 61 in Rapid City, west of US Hwy 16B to State Hwy 79 south of Rapid City. then Highway 79 is the east boundary of the district as it heads south to Cheyenne River Bridge south of Maverick Junction in Fall River County, then the Cheyenne River forms the south boundary of the district to the Wyoming/South Dakota state line.
Legal Description and Map.
Are incorporated towns and cities part of the Black Hills Forest Fire Protection District?
No. Incorporated towns and municipalities within this area are not part of the Black Hills Forest Fire Protection District. These towns would include: Hot Springs, Pringle, Custer, Hermosa, Hill City, Keystone, Summerset, Sturgis, Whitewood, Spearfish, Deadwood, Central City and Lead. If you want to conduct open burning in those towns or cities, you would need to contact the local city officials. However the City of Piedmont has enacted an resoultion that requires all open burning in the city to be done under the permit system of the Black Hills Forest Fire Protection District. So if you live in the city limits of Piedmont, you need to get a permit to conduct open burning in the city limits by using the on-line burn permit system or calling the Rapid City Field Office at 605-393-8011.
What is the difference between a small slash pile, a large slash pile and a campfire?
When applying for an online permit, you will be given the choice of a campfire, small slash pile or a large slash pile on the permit menu.



A campfire is a small fire, with flame lengths of no more than 2 feet, burning in a rock, brick or metal ring, with a three-foot radius of bare dirt soil scraped down to bare mineral soil.

A small slash pile is a brush pile constructed by hand, usually no larger than 4 to 5 feet in height, and 6 feet in diameter. These "handpiles" are a very common sight to see in the Black Hills and comprise 95% of the temporary burning permits issued.

A large slash pile is a mechanically constructed pile that is associated with a commercial logging sale or land development activity. These piles can only be lit under certain conditions, given that these piles can loft hot firebrands for a half-mile or more and smolder for weeks after lit. It is important for fire prevention purposes that a piece of heavy machinery, such as bulldozer, skid-steer loader or tractor is a available to work these large piles as they burn down.



Can I use my campfire permit or burn permit on US Forest Service Land on the Black Hills National Forest?
No. A temporary campfire permit or burn permit is only valid for use on private land within the district, with permission of the landowner. Campfires on Black Hills National Forest Service lands in South Dakota are only allowed in established campfire grates at designated picnic or campgrounds. Recreational campfires outside of those areas on the Black Hills National Forest in South Dakota need to be permitted by the District Ranger or authorized representative.
When I issue myself a permit online, do I need to contact 911 or Sheriff's office
No. The 911 center dispatchers will be able to view your permit details and the location of your burn once you issue yourself a permit on-line.
What do I need to know before issuing myself a permit online?
You will need to know what county you will be burning in, and the name of the local fire department that serves the area where you will be doing your opening burning.
Can I still get a permit without applying online?
You can still receive a permit by calling 800.275.4955 during Monday - Friday from 8:00am to 4:30pm.

You will be issued a username and password over the phone for you to use the next time you call in. However, with Internet access, you can get a permit anytime that permits are being issued, even during holidays, weekends, and after hours.
Who can view the information that I'm providing online to get a permit?
Only 911 dispatchers, law enforcement and fire officials will be able to view the on-line information displayed. That information would be the person's first and last name, date of permit, type of permit, physical location of permitted burn and that person's username on the system.
Can I go on-line to get a permit for a burn barrel or permanent fixed campfire place?
No. These permits require a field inspection and must be sited and constructed to certain standards. Please contact the Division of Wildland Fire Field Office staff to obtain those permits.



Lawrence County: Lead Field Office- 605-584-2300
Meade & Pennington County: Rapid City Field Office - 605-394-2582
Custer & Fall River County: Hot Springs Field Office- 605-745-5820
What are the requirements for an outdoor fire place?
What are the requirements for a burn barrel?
Can I go on-line to get a permit for a broadcast burn?
No. A broadcast burn is defined as fire that is allowed to burn freely through the grass, underbrush and timber; this is generally known as a "controlled burn." Broadcast burns require a written burn plan to be on file and approved by the Secretary of Agriculture before conducting such burns on private land in the Black Hills Forest Fire Protection District.
Do I need to get more than one permit per burning season?
It depends. All temporary burning permits expire on March 31st of the new year. You will need to a get a new permit each and every time you physically change the location of your burn to a new address. If you are burning in the same location for the season, you only need to get one permit for the entire season.
What is a "chinook wind" and why can it be dangerous?
Chinook winds are warm down-slope winds that occur anytime of the year, but especially in the winter. They occur on the lee or east side of the Black Hills and Rocky Mountains. They will be so warm as to melt snow in the middle of the night, and bring what once was thought as a cold slash pile, back to life, fanning it into a forest fire. Make sure your fire is out!
Detailed map of Black Hills Forest Fire Protection District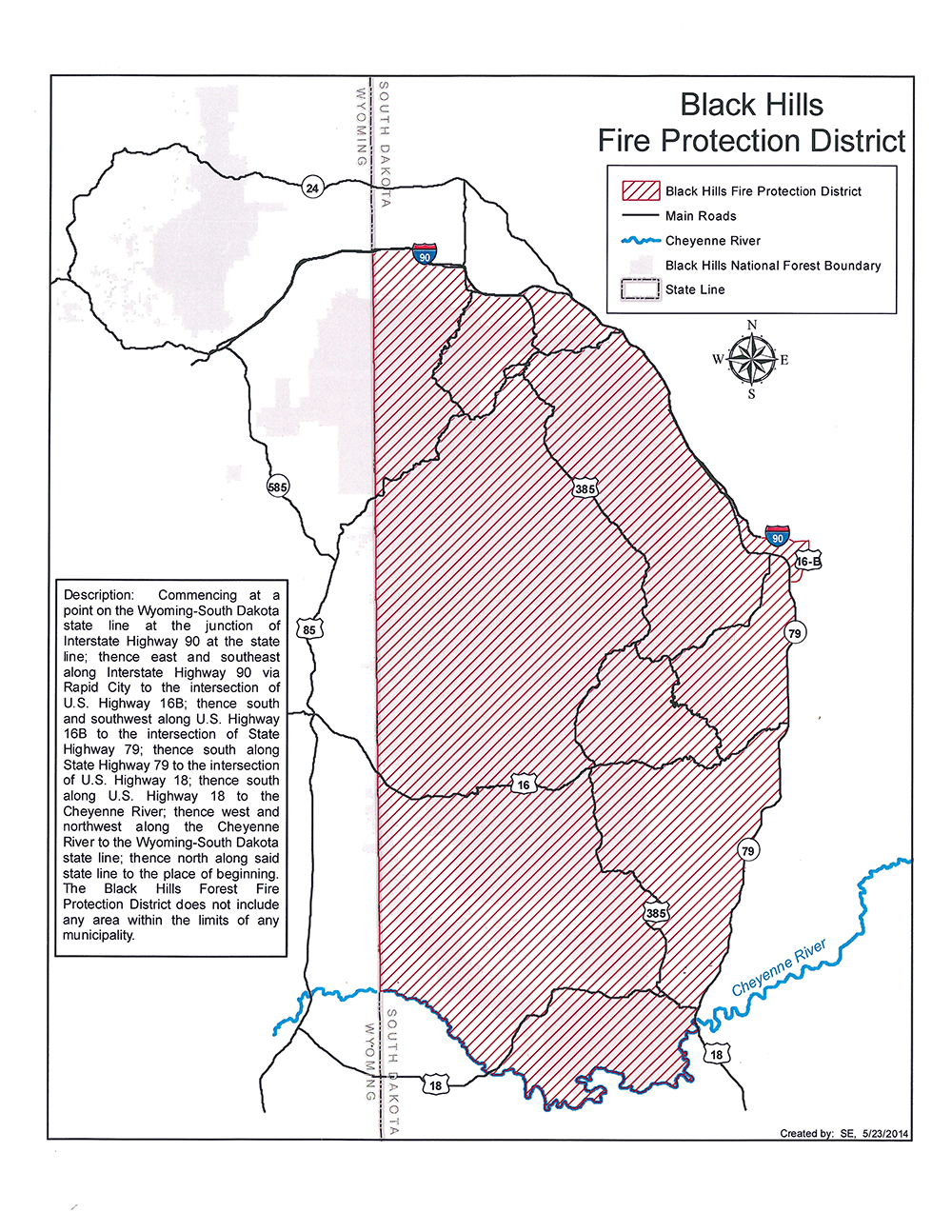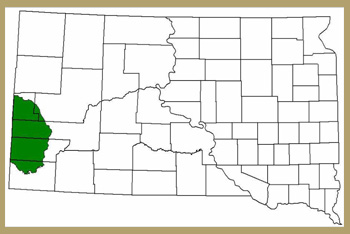 Please contact one of our field offices if you have any questions about the location of your proposed camp fire in the Black Hills Forest Fire Protection District.

Contact information is may be found under the Frequently Asked Questions tab above.
You can apply for a temporary burn permit in one or two ways. You can apply in person at one of the field offices during business hours, or over the phone at 1-800-275-4955 (only within South Dakota) or you can obtain a permit during the open burning season online.
No. You will need to contact the local Black Hills District Ranger's Office for permission to use open fire on the Black Hills National Forest.